Ha Lao Leo Nani - Studio Rental
Our beautiful studio, Ha Lao Leo Nani -
The Gathering Place, is now available to rent.
The new studio is a remarkable, peaceful place for your workshops, recording sessions, rehearsals, artist-in-residence offerings, meditation retreats, dance retreats, lecture series, concerts, ensemble rehearsals,  video recordings, photography workshops, ETC. ETC.-ETC..

Contact us to begin the conversation. We look forward to working together to build a beautiful experience for you and your artist projects.  In addition to Rhiannon's annual workshops, we have room for six special week-long programs and an assortment of one to two day offerings.
This 1600-square-foot building includes a 1000-square-foot multi-purpose space with dancer friendly recycled rubber floor, 6 foot Steinway grand piano, folding chairs, and adjacent bathroom.  We are entirely sustainable with salt water battery solar and rain catchment for the bathroom. The sky lights and double glass doors on 2 sides along with the wall of jalousie windows allow the trade winds to fill the studio with beautiful fresh air and the ever changing light.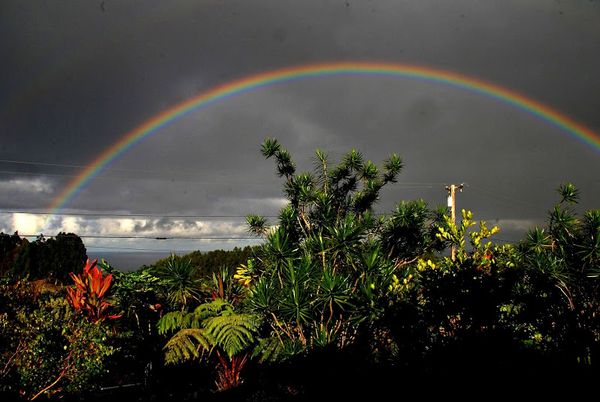 Words cannot describe the power of the land.
Working in a quiet, private studio nestled on the hill with a view of the rich farm below, the ocean air floating fresh on the trade winds and Mauna Kea mountain in the distance  all combine to create a space for you to refresh your spirit with renewed energy to create beautiful work and to spend time with your artistic collaborators without distraction.
Rental Options

Public Event
A one time concert- lecture-art show-dance concert .... Consider an inside the studio event for 10-40 guests (3 hour tech in + 2 hour event + 1 hour clean-up: a total of 6 hours in one day: $300). Or, an outdoor event for up to 100. (for example a one day workshop followed by a concert) a full day on the farm: $750.
Artist Retreat
For yourself or for your students. If you are looking for a place to live simply and have some personal time to think about your creative life and work-we can offer a private guest house on the farm with studio availability. Contact us for information.
Weekend or Week-long Workshop
Create the schedule you want for your students and colleagues. Contact us to discuss residential workshops or commuter options.
---
Support
We can also offer technical support, catering and airport pick-up. We can arrange for lodging nearby the farm or on the water in Hilo. We have wonderful relationships with property owners and can organize everything for you or give you the advice you need so you can personally plan for your group. Other options include accommodations for 2-4 people in our guesthouse or studio loft, and the use of our recently enlarged lanai with outdoor kitchen and dining room. 

Food & Amenities
Breakfast on your own at the B & B's 
Lunch available on the farm...contact us to discuss your menu and market prices
Dinner on your own -in your rental homes or let's plan  dinner in town or specially prepared meals by local chefs.
Parking is available on the farm. 
Wheelchair accessible
No Shoes in the studio please. Leave your shoes on the front lanai as in all Hawaiian homes.

Please note: No smoking or eating is permitted in the studio building. Capped drinking water is permitted.
Travel Info and Directions
If you are interested in renting the studio, please fill out the form below and we will get back to you - thank you!
Rental Rates
Basic Rate schedule  please contact us for more info 252-202-0865
Studio rental
$300 for a 6 hour event (3 hour teach in, 2 hour event + 1 hour clean-up)
$750 per day  
$1200 per weekend
$2000 per week