Rhiannon & Laurence Hobgood
Rhiannon and Laurence Hobgood join hands and voice in this project of improvisation and jazz standards.  Contemporary virtuoso pianist, collaborator, composer, multiple Grammy nominee and 2010 Grammy winner Laurence Hobgood has enjoyed a dynamic career. Perhaps best known as musical director for singer Kurt Elling from 1995-2013, Hobgood co-produced ten of Elling's CDs, each Grammy-nominated. Dedicated To You: Kurt Elling Sings The Music Of Coltrane and Hartman, recorded live at Lincoln Center, won the 2010 Grammy Award for Best Vocal Jazz Record, with Hobgood receiving one of the coveted statues for his work as producer.

Rhiannon & Laurence have appeared in New York City  and Chicago, Hawaii and  on the west coast, and are available for bookings in the United States, Europe and beyond. 
REVIEW BRISBANE JAZZ FESTIVAL AUG 2020   ALAN SMITH Brisbane Jazz Club

It's Saturday night. And it's Day 3 of our 2019 Brisbane Vocal Jazz Festival. 
You have just parked your car.  And if I may offer a word of advice before you come in……just for tonight….leave all of the following in that car… 
Your preconceptions about what Jazz is.  Your yearning for the familiar, in melody and lyric. 
Your desire to tap your feet to a defined, confined, comfortable musical form and structure. 
The Duke, Count Basie, Miles, Trane, Ella, Sarah, Carmen, Billie, Frank, Chet, Nat, Kurt Elling… Sammy Cahn, Johnny Mercer, Harold Arlen, Hoagy Carmichael, Eden Ahbez….. 
You can get all of that tomorrow night.    Or next week. 
For on this night, what you will need is a willingness to try something new.  To let go. 
To slip into the rare opportunity of experiencing and sharing something that is oh, so very different.  As tonight, the Brisbane Jazz Club presents Laurence Hobgood and Rhiannon,
as they present a totally spontaneous and free-form show, that they have never performed before.  And for your reviewer at least, this was indeed, something new and different.
I have never experienced its like before. 

From Laurence's first notes and Rhiannon's introductory ooh-aahs and doo-dahs, I found myself thinking, 'Er…hmmmmm….er.   What is THIS?'    'Is this self-indulgence?'   'What does the audience get?'   'Is this an 'acquired' taste?   If so, could I ever hope to acquire it?   Would I want to?'  And perhaps, apart from those who attended the workshop earlier today, and therefore had some fore-knowledge of what to expect, I felt I was just one among many in the audience, who were wondering much the same thing.  And now, as I wonder about just how to describe the night, I have considered the option of presenting my review in a form much like tonight's performance; as a stream of consciousness; as a sequence of words and phrases from my ten pages of notes…. 
Doo. Fah. Moo. Too.  And periwinkle blue.     Free. River. Sound.  I don't have to hang around. 
Shenandoah.  Baby eyes.   Your hair in the morning.   Wishes.  Wise.  With a footnote, such as, 'Imagine this set to an improv piece by a Grammy Award-winning piano player. Then knock yourself out.  Make of it, take from it, what you will.   Enjoy yourself.  Go.  Be free.  And oh, please…sing along.' 
And, if you had been here, that might actually be enough to capture the essence of the night.  But these two outstanding performers and their unique performance, demand much more… Beyond the unmasked skepticism of my initial reaction, as the performance progressed, I began to sense the subtlety with which Rhiannon and Laurence were challenging us to shed our preconceptions;  'Let go, and climb on board with us, as we explore who we are.  Who I am.   Who you are.   As an individual, alone.   As one among many.  As one among the choir.' 
And while short on spear-throwing gestures and threatening tongues, their challenge had no less power than an Aboriginal War Dance or a Maori Haka.  And for many of us, it worked.  With a steady, grounded, believable, trust-able and skillful collaboration and on-stage presence, they guided us on a wonderfully free-form meander, through a colourful, busy, buzzy and vibrant landscape. 
Across fields, they took us.  Along rivers.  Among the stars.  Sharing love.  And loss.  And danger.  And exhilaration.  And exploration.  And discovery.  Challenging us to step beyond the expected; beyond our comfort zone; to experience a new view, a new sense, of the world.   At this time.   In this place.   In this very moment. 
Indeed, the performance was so spontaneous, and so 'in the moment', that at one point, I found myself musing about a sudden burst of flooding rain and a rising Brisbane River. And I felt quite certain that, even in such a dramatically changing circumstance, tonight, these two artists would have simply embraced this new element of the moment, and played on. 
Later, in a chat with Rhiannon and Laurence, I asked… In your flawless collaboration, who is following whom?The response included, 'In a typical two-person conversation, 80% of the focus will be on what YOU want to say. For us, on stage, 80% of our individual focus is on what THE OTHER PERSON is saying/doing, and where they are going.' 
Do you have anything resembling a Set List?   Broad smiles, and a resounding 'No', was the reply. 
And when it was all over, a grateful and supercharged audience rose to applaud the power, the wonder and the magic of this performance. So, thank you Rhiannon and Laurence for your guidance on a wondrous journey, and  for taking us, so skillfully and sublimely, from 'Hmmmm?'……to a standing ovation!! 
                                                                                              ~ALAN SMITH Brisbane Jazz Club
~~~~~~~~~~~
Perhaps the most impressive part of the evening was the connection and sense of play that Rhiannon and Hobgood displayed and embodied every second...  The natural give and take between these two is palpable ​ - Nate Hall, PictureThisPost.com
http://www.picturethispost.com/winters-jazz-club-presents-rhiannon-hobgood/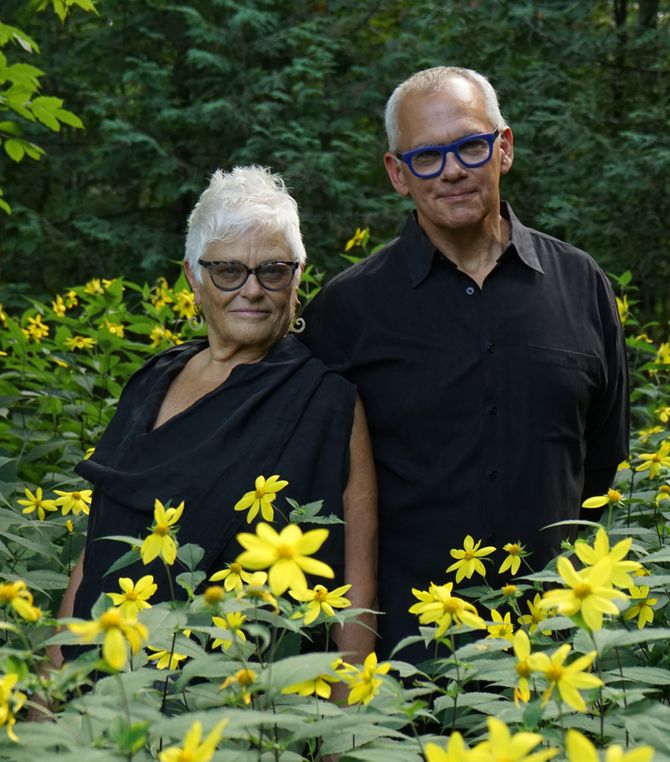 "One of the most incredible pianists
I have ever heard."
DAVE BRUBECK

"Piano Virtuoso"
NEW YORK TIMES

"Perpetual Inventiveness"  
THE CHICAGO TRIBUNE
A fabled underground figure in vocal jazz, Rhiannon turns improvisation into performance art... With a soft, supple voice and a range that climbs to the sky, she shows what heights jazz singing can reach when it combines disciplined musicianship with utter fearlessness.
James Gavin, Time Out New York

... Rhiannon is a LIGHTNING BOLT. The charge is continuous, illuminating and revitalizing.
Susan Lachmann, Women On Air
Sometimes words just simply fall short—and often that is the case with the shamanistic singing of Hawaii-based improvisational master Rhiannon, who will appear in duo with Grammy-winning pianist Laurence Hobgood at ShapeShifter Lab (Nov. 15th) and Cornelia Street Café (Nov. 16th). If you have never heard Rhiannon you have not fully lived. She is a musician and performance artist with a healing touch, manifesting her powerful vision of social change through the arts worldwide.  
New York City Jazz Record