Winter, one for the books with snow like mountains and rain like rivers.
Janne and me in California for all of March in honor of her:
Photographic Retrospective from her years living in Point Reyes and documenting the community, 
the land and the light.
So proud of her artistry. Grateful to hear people heaping praise on her skill, commitment and generosity.
They told her in a big circle at the opening at Toby's Feed Barn Gallery that she was always there, her photographs of their children are the best, that she took risks, that her black and white photographs printed in her own darkroom back in the day have incredible depth and definition.
She had to take all this in. She could not escape from the room. I was right beside her as she has been for me over and over again.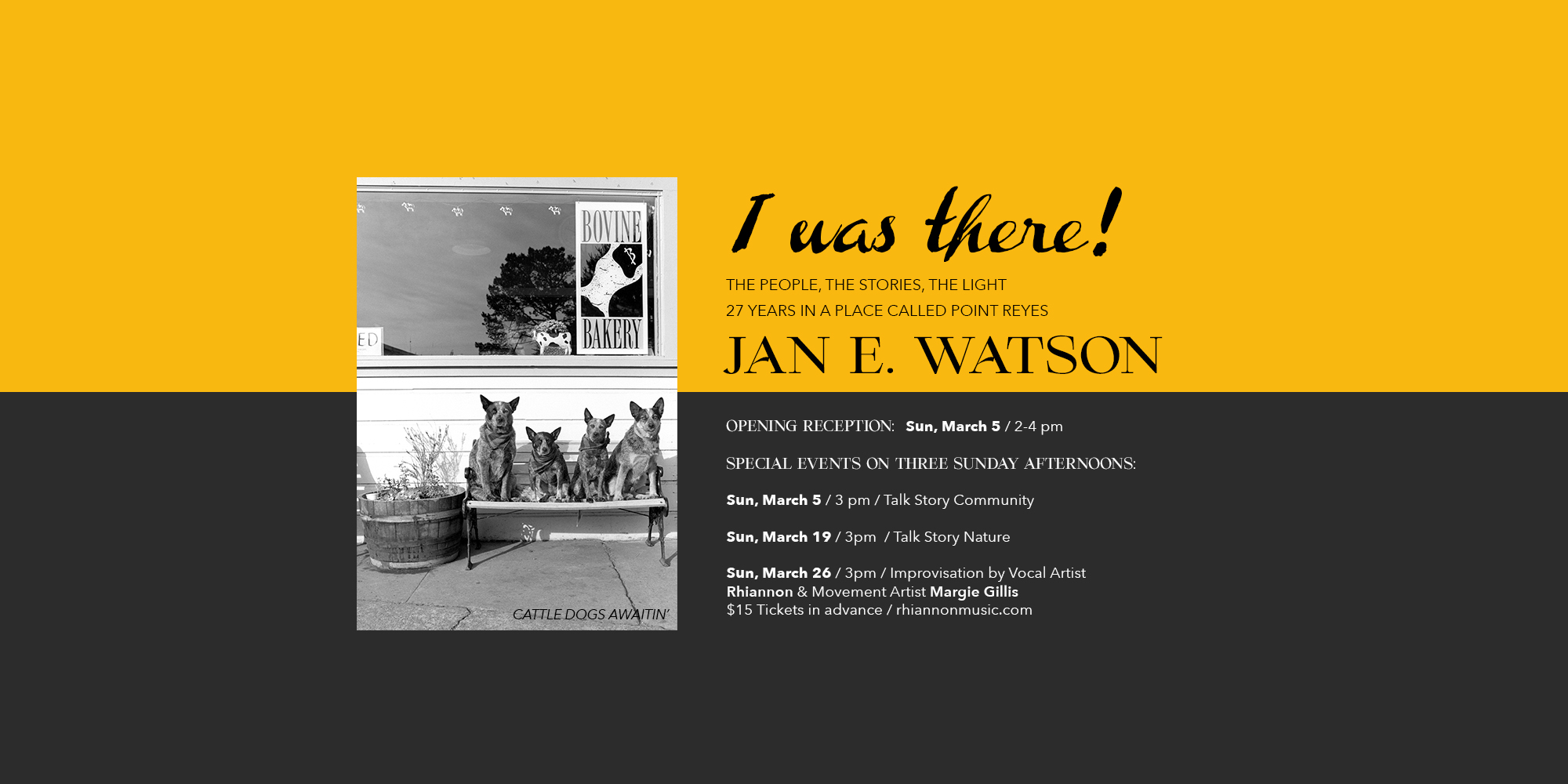 Now the month continues with another Talk story on March 19. This time about connections to nature, so abundant and diverse out here in West Marin. Then Claire Peaslee and I will improvise on that same theme and who knows where that will go, but delicious no doubt.
The final performance will be March 26 when Margie Gillis arrives from Montreal to dance in my voice. 
We will be at the Dance Palace giving us a beautiful wood flood, big space and lots of light to remind us what is right outside. If you don't know Margie Gillis, she is all over my website and in my heart space. What a thrill to work with Dame Margie. She comes in honor of Janne. So righteous. Don't miss it.
And in between we have been traveling the greater Bay Area to visit friends and family. Big distances. 
Big relationships that need touching. I get to sing with Bobby and Motion on several Mondays at the Freight and Salvage in Berkeley. Great food. Some long awaited reunions for example with Holly Near at her tribute concert on International Women's Day at the Freight where a bunch of us sang her songs and reveled in our herstories and that we keep coming back to one another deeper and better with time, and finally we will get to go to the stupendous beaches of West Marin. 
So never mind the wind and rain. Please join us as many times as you can. There is always something new to say if we get to meet more than once.
You know how it is when you have an evening meal and sit down with friends and then stay overnight and talk again in the morning or maybe two mornings. That is what we all deserve in these times of bad news and fears for the future. Solid love buoyed by stories, tears and belly laughs. 
Courage to keep believing and working together. 
Bless the future and the children who I hope get to read these scribblings of love.
Rhiannon